---
Gas Cutting Torch Model 62-3F SUMO
Cutting steel with thickness up to 300 mm. Gas pipeline is made of stainless steel. High strength, maintain heat level during cutting as well.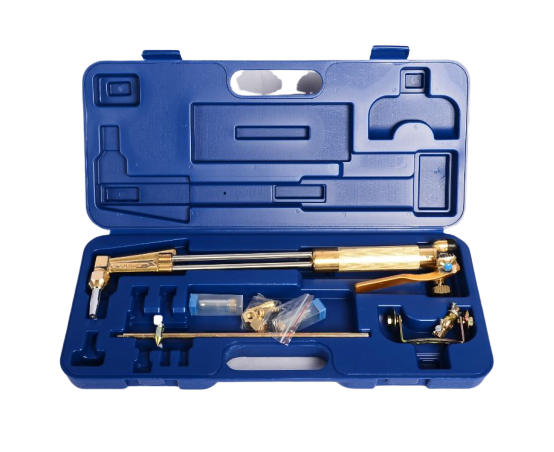 Suitable for
Cutting jobs Heat Burning Grooving
Cutting, Heating, Gouging
Properties
Cut steel with a thickness of up to 300 mm.
Gas pipeline made of stainless steel with high strength.
Fast and accurate accelerator valve
There is a safety system in the cutting head.
Maintain heat levels during cutting as well.
Feature
Heavy duty cutting-up to 300 mm steel.
Triangular stainless steel gas tubes for maximum strength.
Needle valves for fast, accurate flame adjustment.
Built-in safety plug in torch head.
Universal pressure - maintains stable preheat flame during cutting.
Standard Equipment
Cutting diameter width
Rat's Milk
Fish tail joints
Cutting handle
Standard Accessories
Circle cutting attachment uo to 600 mm
NX Nozzle Cutting TIP No. #0, #1, #2
Hose Tail Connector 9/16" x2PC
Torch Handle

Caution
The obstruction to the mouth of the Nozzle nozzle caused by the fire can cause a backlight, so for safety, put a backlight protection device on the handle of the gas cutting kit, wind gauge, gas gauge.
Backfire cause nozzle clogging by sparks. Put flashback on the shaft Cutting Torch, regulator, gas gauge for safety.
Warning
Unfle milk is easy to dissolve. Clogged up. This can cause back lights and explosions on the cutting head and cutting handle.
Backfire and explode cause by toching the nozzle against the workpiece.